If you are one of those people that cling to their jeans and bulky woolly jumpers even long after the chill weather of winter has passed then the thought of revealing a bit more skin can be a bit of a grim prospect especially when you are still working on your summer tan. But don't worry since the maxi dress style has you covered as a great transition piece from spring into summer that lets you stay covered up yet cool at the same time.
Luckily enough for us, maxi dresses have been in style for a good few years now and thanks to their versatility and practicality they are showing no signs of going anywhere soon. This means that they are a great investment to make for you late spring-summer wardrobe that you'll be able to wear the whole season long and for the next few following summers too. There is a huge choice to pick from too that will suit any budget and style meaning that there is the right maxi dress just waiting for you to find it out there. We love maxi dresses so we have put together a few of our favourite picks from this season below.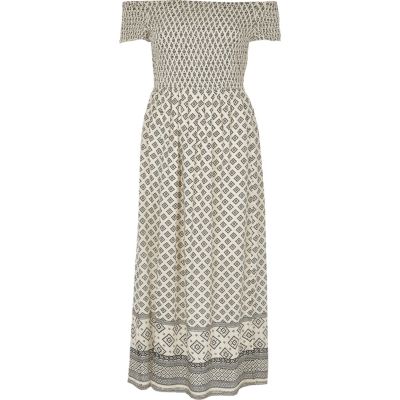 The Bardot style top has been everywhere this season and this sort of strapless drop-shoulder look lends itself perfectly to the maxi dress style too with a hippy-like insouciance. You can look like the ultimate flower child in this gorgeous cream tile pattern maxi dress with sexy front slits from River Island which is one retailer that always manages to have its finger firmly on the fashion pulse. Team with biker boots and a black leather jacket for an edgy look or with strappy sandals and loose hair for a more bohemian one. Get it now from River Island for £35.
If you prefer a more polished look and would prefer a maxi dress that look as glamorous as it does beautiful then this stunning V-neck floral number from Topshop will be perfect for you. The shape of this dress is incredibly flattering and will hug you in all of the right places making you look statuesque and pretty much drop dead gorgeous. The colours will suit any colouring whether you tan or not and the delicate floral pattern is one trend that is a perennial one in the world of summer fashion. You can pick up this stunning maxi for £65.
If you want something that is going to be eye-catching without having to spend a lot then we turn to one of our favourite and often over-looked high street stores Matalan, where you'll be able to find lovely simple pieces that don't reflect their price tags at all. This gorgeous lemon yellow maxi dress with an embroidered tape trim is a timeless piece that you will be able to throw on whether you're going to the beach or going to the supermarket. The colour is simply divine and makes this dress really stand out, but if yellow isn't your thing then there is also a black version. This purse-friendly press costs just £14 so there's no reason to wait.